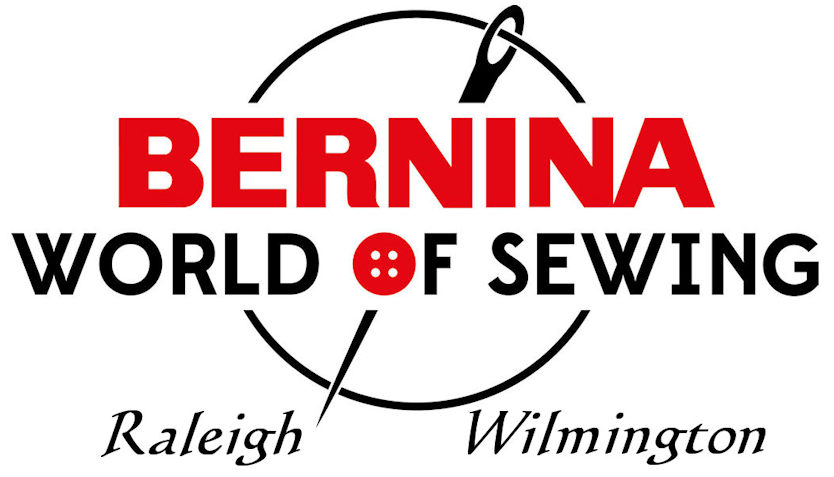 Bernina World of Sewing
A World of Stitching at Your Fingertips!
Oak Park Shopping Center 6013 Glenwood Ave, Raleigh, NC 27612-2601
Raleigh Phone: (919) 782-2945 Hours: Mon-Sat 10-5,Sun 1-5
Wilmington: 4403F Oleander Dr, Wilmington, NC 28403
Wilmington Phone: (910) 769-2775 Hours: Mon-Sat 10-5
Favorite Quilt That I Own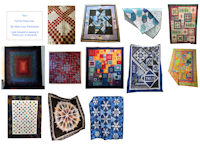 ---
The Title (above) basically describes what this Web page is intended to show. (For those who participate in the following, as described below):
What is Our "Favorite Quilt That I Own" (FQTIO)?
This topic came about the first time (2018) as I recognized that March is "International Quilting Month". As I wrote the term, I decided to change it (for purposes of this Web page) to be a celebration of Quilt(s) from a personal point of view, not "just' Quilting.
I have decided to have a similar project now, in 2021 -and, as we did not get ten participants in 2021: We extend into 2022.
Could I, in fact, decide what is "My Favorite Quilt That I Own" (FQTIO)?
If you wish to participate in this quest: Here is the plan for this Web page through April 30, 2022.
If you are reading this and "all" you are wanting to do is to vote for ONE of the entered quilts, skip the following section on rules/etc. and choose ONE of the entered pieces and, then: Click on the Vote box for your-chosen "Has my vote" favorite.... and, then, scroll down to the bottom of the Web page "Contacting Information" to submit your for-vote information.
Browse the following, if interested.
Regards,
Dave Shogren - Webmaster at Bernina World of Sewing
Rules:
Find the quilt that you want to submit, for this project. You need NOT have created/made the quilt yourself: It simply has to be a quilt that YOU own at this time. The piece may have been created anytime now or in the past. Hopefully, there is a "story" about the piece that you are willing to share; however, this is not an entry-requirement.

Photograph it.

The quilt may be of ANY type: Wall Hanging, Full size, whatever. Minimum size: 10" in any direction -- but, if less than the minimum: Ask.

Send the photograph to: bwosmyfavoritequilt at Bernina World of Sewing dot com

Send the image in FULL SIZE. Don't be concerned with the physical (computer/Web) size of the file. Don't "compress it" or whatever. Once that your piece's photo is shown on the Website, you will be alerted to that and (of course) if the quality of what is shown is not sufficient (or whatever) just ask that it be removed.

Include in the eMail, the photo (attached is OK) and:
Your Name
Your City/State/Country
The quilt (piece's) name (default is Un-Named)
The quilt's size (width and height)
A comment about the piece.


The submitted photo and information will be shown on this Web page.
Decide if you wish to vote on the Favorite piece shown on this Website.

One vote per eMail ID. The vote may be changed until April 30, 2022.
Note 1: I (the Webmaster of this site) chose to extend the project-end dates as ten participants had not happened by October 1, 2021.
Note 2: If you participated in the 2018 FQTIO project and want to participate in this version-of: certainly, do so -- However, your pieces entered in 2021 must not have been entered in the 2018 FQTIO.
Note 3: If you want to see how 2018's FQTIO project evolved, send a note (requesting access to that) to the eMail bwosmyfavoritequilt id mentioned above.
If ten or more participant's quilts are submitted: (Note - Webmaster may change all dates mentioned, below, as "closing dates" approach and ten participants have not yet entered).
The participant who has the most votes at the end of day April 30, 2022 for "Favorite piece shown on this Website" will receive $90.00 USA in form of a Store Gift Certificate. Remember: Gift Certificates may be used for anything currently in-store including classes. Also, this Gift Certificate could be used for anything purchased via our online site (such as Fabric or Thread).

Second-place participant will receive a $45.00 USA Gift Certificate.
Third-place participant will receive a $15.00 USA Gift Certificate.

Four quilts max will be accepted per participant; one, of course, is fine -- and: The owner of the submitted quilts has only one vote... so, basically, the owner of the submitted quilts will end up naming his/her "Favorite Quilt That I Own" (FQTIO).
Dates:
Entries are accepted from now until April 15, 2022.
Votes are accepted from now until April 30, 2022.

The eMail owner's vote may be changed anytime until April 30, 2022. Remember: Only one vote (the voter's last-entered vote) will be counted per eMail ID.

Questions or Comments: Just send to bwosmyfavoritequilt at Bernina World of Sewing dot com

Looking forward to hearing from you!
Dave Shogren - Webmaster at Bernina World of Sewing
---
---
Participant: Sheryl Thompson, Chapel Hill NC 
Project ID: SKTFQTIO20211ZenGarden
Quilt Name: Zen Garden
Quilt Size: 76" x 76"
Comment: Zen Garden was a challenging quit, but helped me get through the difficult times during the pandemic.


SKTFQTIO20211 Zen Garden
Has My Vote

Current Project Votes: 1
(Scroll Below to fill out the rest of the Webform)

Project ID: SKTFQTIO20212CathedralWindow
Quilt Name: Cathedral Window (YouTube video)
Quilt Size: 53" x 65"
Comment: My husband's grandmother and great aunt hand stitched a queen size cathedral window quilt in the evening hours by candlelight after all farm chores were completed. When they passed, their quilt was draped over their caskets.

The quilt drew me with curiosity and I had to learn how this was done. I watched many YouTube tutorials and finally made a much "smaller" version.


| | |
| --- | --- |
| | Closer Look |

SKTFQTIO20212 Cathedral Window
Has My Vote

Current Project Votes: 0
(Scroll Below to fill out the rest of the Webform)
---
---
Participant: Gloria Rangel, Durham NC 
Project ID: GKRFQTIO20211GardenClub
Quilt Name: Garden Club
Quilt Size: 70" x 85"
Characteristics: This was my very first embroidery quilt and was made on my new-in-2010 Bernina 630. 

This quilt has only one "y" seam.  I used batiks and bright fabrics in my stash. 

I was hooked on embroidery after making this quilt.  

| | |
| --- | --- |
| | Closer Look |
GKRFQTIO20211 Garden Club
Has My Vote
Current Project Votes: 1
(Scroll Below to fill out the rest of the Webform)
---
---
Participant: Jane Ostertag, Elizabethtown KY
Project ID: JKOFQTIO202101KaffeKats
Quilt Name: Kaffe Kats
Quilt Size: 48" x 72" (approx.)
Characteristics: I'm in the process of creating 3 quilts for 3 dear friends that have been helping me through the "Year of Firsts" following the sudden death of my husband last December. Kaffe Kats is the first of the 3, and actually it is the first quilt that I've ever made! Talk about jumping off the cliff! But what fun! I polled each of these friends to tell me what their favorite color combination was without letting them ask what it was for. These 3 quilts will be Christmas surprises for these wonderful women, if I can get them done in time. So far, it's looking pretty good! ?? I hope that these quilts shower as many blessings on their recipients as these gals have showered on me during this challenging year!

Having recently discovered Kaffe Fassett fabrics and their thrilling colors, I knew I had to use them for the first combination of cobalt blue, bright green, with a favorite color of orange. I learned to use steam and seam to fuse the cats and hearts, applique with a blanket stitch, apply borders and finish off with binding. The local quilt shop, Uniquely Yours, did the long arm quilting for me.

| | |
| --- | --- |
| | Closer Look |
JKOFQTIO202101 Kaffe Kats
Has My Vote
Current Project Votes: 2
(Scroll Below to fill out the rest of the Webform)
---
---
Participant: Marlee Margulies, Chapel Hill NC
Project ID: MKMFQTIO2021Maya
Quilt Name: Maya
Quilt Size: 52" x 52"
Characteristics: The making of this quilt has been very special for me. Adopted as a newborn, I was recently connected with my birth family on my father's side when a cousin contacted me after matching via DNA on a genealogy site. Sadly, my birth father passed away shortly after the connection was made - before we could meet in person. The COVID pandemic has further delayed meeting any of the family in person - however a trip is being planned for early in 2022. I made this quilt for my newly-found aunt - my birth father's younger sister. She has been so open and generous with her time, and in sharing stories, photos and memories with me to allow me to learn more about my family of origin. I wanted to make something special for a birthday gift. As I was thinking about it, I realized it was hard as I'd never been in her home, or knew what colors she decorated with, etc. I did know, however, that the family has a lake house in upstate New York. In stories and news she has shared, it was obvious that the lake house was an important hub for the family. Many generations over many years gathering there to be together and make memories. I decided to create something that was lake-themed, and the Art Gallery "Catch and Release" fabric really caught my eye.

The quilt's name - Maya - has significance in a couple of ways. My Hebrew name is Maya, and is actually the third name I have had. My first being the name my birth mother gave me, the second being the name my adopted parents renamed me with, and Maya, the name I chose when converting to Judaism when marrying my husband. Name and identity is obviously a big part of an adoptee's story. The second significance is in the Hebrew meaning of Maya - which is water. Water - being on the waterfront, fishing, swimming - has been an important part of my birth family's fabric. I loved the connection, and look forward to finally meeting my new family soon

| | |
| --- | --- |
| | Closer Look |
MKMFQTIO2021 Maya
Has My Vote
Current Project Votes: 1
(Scroll Below to fill out the rest of the Webform)
---
---
Participant: Cecelia Schneider, Raleigh NC
Project ID: CKSFQTIO20211MatthewsCollegeQuilt
Quilt Name: Matthew's College Quilt
Quilt Size: 75" x 96"
Characteristics: This graduation gift was designed to represent all aspects of my son's life and accomplishments. The large block in the upper left is a flying geese block to represent his Air Force ROTC scholarship and his plans to become a pilot. The quilt proudly displays the university name and year of graduation, which are applique. I tried to stick to Yale's color scheme of blue and white, but the quilt itself is made from dozens of different prints, each representing some aspect of his life. These prints include Nutcrackers to represent his years in City Ballet and Carolina Ballet's Nutcracker productions. There are Russian matryoshka dolls representing his summer spent with the Bolshoi in Moscow. There are Boy Scout prints, prints that have physics formulae representing his major, and prints that have dissected timepieces representing his love of watch collecting and the engineering behind them. There are just too many symbolic prints to mention them all. I used an all-over oak leaf quilting design to represent his hometown of Raleigh (The City of Oaks). This is my favorite quilt because it was so much fun to collect the fabrics and reminisce about my son's childhood. It was also fun to figure out how to make all of the parts fit together. 

| | |
| --- | --- |
| | Closer Look |
CKSFQTIO20211 Matthew's College Quilt
Has My Vote
Current Project Votes: 12
(Scroll Below to fill out the rest of the Webform)
---
---
Participant: Ellen Rhyne, Oak Island NC
Project ID: EKRFQTIO202101DoubleIrishChain
Quilt Name: Double Irish Chain
Quilt Size:
Characteristics: This Double Irish Chain quilt was hand pieced and quilted by my husband's great great grandmother circa 1890's. She was a teenager during the civil war when Sherman's army came foraging through her family farm. They took some hams from the spring house that were wrapped in quilts. She was so upset that the soldiers had her quilt (not the hams) that she began to hit the soldier with a broom. The officer in charge told the soldier to give her the "damn quilt".  The soldier dropped the quilt and his horse trampled on the quilt leaving red mud stains. This is not that quilt (that quilt is in a museum in Gaston County, NC). but the story reminds me of how important quilting was to this young woman. 

| | |
| --- | --- |
| | Closer Look |
EKRFQTIO202101 Double Irish Chain
Has My Vote
Current Project Votes: 1
(Scroll Below to fill out the rest of the Webform)
---
---
Participant: Penny Schmitt, Wilmington NC
Project ID: PKSFQTIO202101OLittleTown
Quilt Name: O Little Town
Quilt Size: 54" x 54"
Characteristics: Scrap Quilt

Comment: I made this 54" x 54" scrap quilt about 12 years ago. I call it "O Little Town" because it was inspired by the village print featured in the quilt's outer border. I cut the diamonds for the big star from flip-and-sew scraps strip pieced and cut into diamonds. The Angel and snowflake appliqués were borrowed from other patterns. The only fabric bought new for the quilt was the Michael Miller Fairy Frost blue in the wide border. All the rest was from my scraps or my stash.

| | |
| --- | --- |
| | Closer Look |
PKSFQTIO202101 O Little Town
Has My Vote
Current Project Votes: 1
(Scroll Below to fill out the rest of the Webform)
---
---
Participant: Dave Shogren, Raleigh NC

To get us started, I selected three quilts that I own and are my favorites. I have a difficult time to decide which is my "actual" favorite. I am sure, as the next nine weeks go along and I think about the choice more... I may change my initial vote. We see.

Project ID: DJSFQTIO202101FillThePatchWithBrightness
Quilt Name: Fill The Patch With Brightness
Quilt Size: 84" x 84"
Characteristics: Nine-Patch, Cotton

Comment: I was given this quilt in 2020 as the COVID stay-at-home got underway and the piece has been an every-day pleasure to see. The Blooming Nine-Patch projects/classes over the years have been fun for me to see (other project-participant's efforts). I say many times: I am lucky. I choose this as my 2021 favorite... for now. I have nine weeks to make a final decision.

| | |
| --- | --- |
| | Closer Look |

DJSFQTIO202101 Fill The Patch With Brightness
Has My Vote

Current Project Votes: 1

Project ID: DJSFQTIO202102SQWander
Quilt Name: SQ Wander
Quilt Size: 35" x 35"
Characteristics: Characteristics: Squares Squared, Silk (Framed)

Comment: Another piece that has been hanging on my wall for years. As with other-such pieces that have been given to me, the color change as the day moves along (silk does that, to my eye) is a pleasure to see/enjoy.

| | |
| --- | --- |
| | Closer Look |

DJSFQTIO202102 SQ Wander
Has My Vote

Current Project Votes: 0

Project ID: DJSFQTIO0202103MoreThanYouThink
Quilt Name: More Than You Think
Quilt Size: 52" x 56"
Characteristics: Cotton

Comment: As I walk past this, hanging on the wall - I sometimes try to determine how many "blocks" there are in this piece. Those of you who have taken the MatchPlay class will understand this comment. Again: I enjoy the piece and its brightness each day!

| | |
| --- | --- |
| | Closer Look |

DJSFQTIO202103 More Than You Think
Has My Vote

Current Project Votes: 0
---
Contacting Information
Your Name:

Your Location:
City, State, Zip Code
Country

Your eMail Address (THIS IS REQUIRED):
Optional Comments:

---------------
Privacy: Bernina World of Sewing will never use any information you give to us for any purpose other than this project. We will not make available to anyone, nor to any company/business other-than Bernina World of Sewing, any information related to this Web form input.
To contact us about anything on this Web page, please: send mail to: Bernina World of Sewing for This Project