Our Store's Winner
Congratulations to - And: Thank you! to:
Our store's winner: Lois Khakee, Wilmington NC
August 11, 2016
(Click on the following to see as a larger image)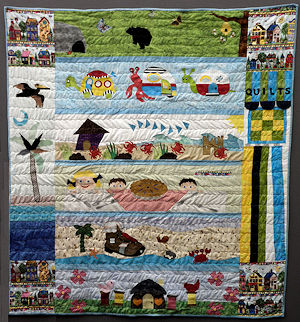 ---
If you have our pattern and are looking for the in-such-mentioned Embroidery file, you may now link to:
www.berninaworldofsewing.com/RowByRowExperience/2016/BWOSHomeSweetHomeEmbroideryFiles
We would love to see your Row(s) -- It need not be a completed piece for us to show here. Just stop by the store with your piece and we will take a photo -- or, send the photo to the following "send mail to" id. Thank you, in advance.
If you have any questions, comments or otherwise with the above, please eMail:
send mail to: BWOSRowbyRow2016@BerninaWorldofSewing.com
---
We look forward to seeing you at our store regarding Row by Row Experience 2016 -- or, of course: Anytime for our BERNINA machine sales/service, wide fabric selection, our classes, etc!
(Click on any of the following to see in a large-sized image.)
---

© Bernina World of Sewing
6013 Glenwood Ave.
Raleigh, NC 27612
USA
Phone: (919) 782-2945
To contact us about anything on this page or any of our site's Web pages, please:
send mail to: Webmaster for Bernina World of Sewing

This website offers links to other sites outside the purview of Bernina World of Sewing. Bernina World of Sewing claims no responsibility for the content of any linked site and does not necessarily endorse the content of these links. These links are in place for your convenience only.